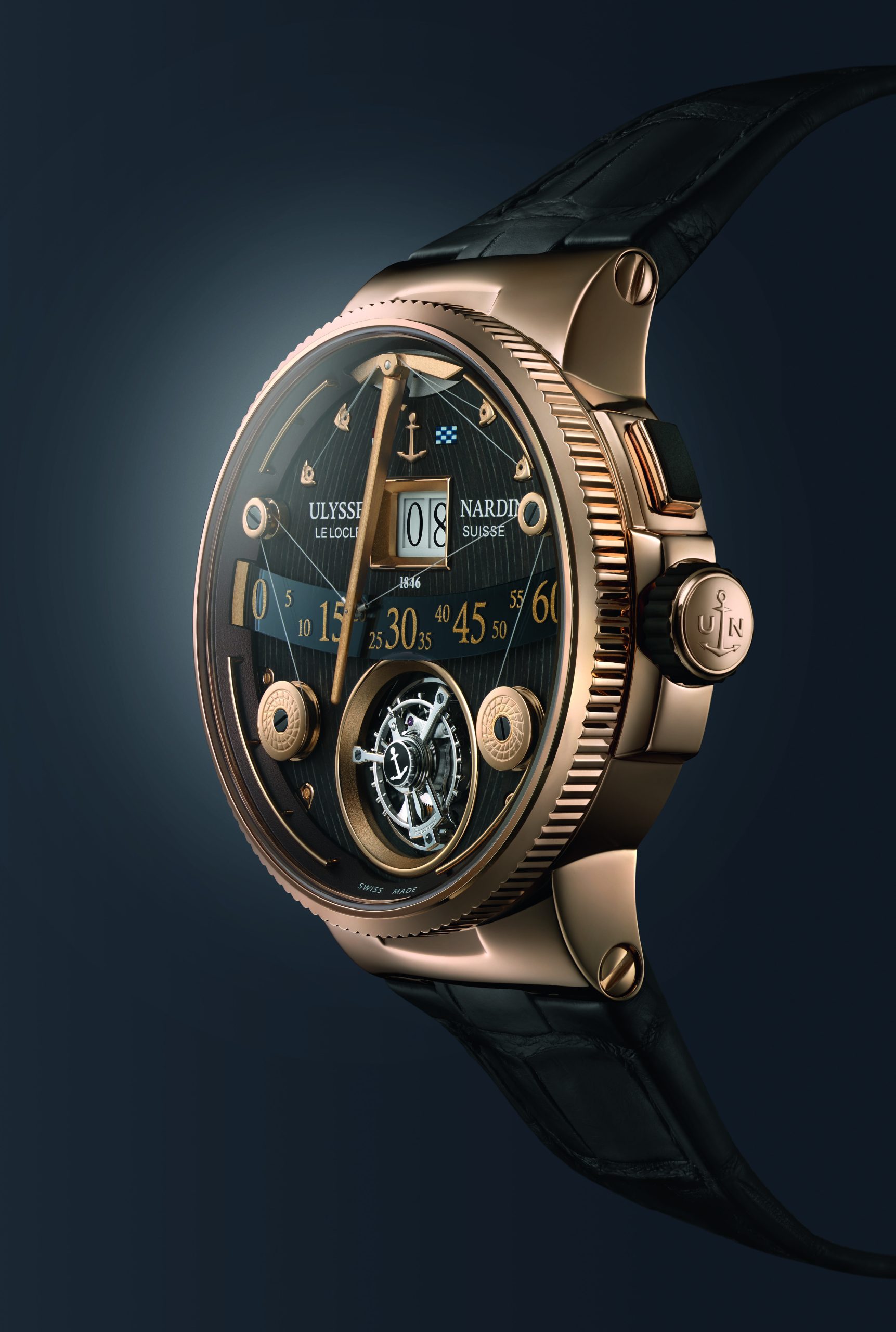 Beacon Of Hope

When you first set eyes on it, your soul and mind are instantaneously mesmerized by the life-like depiction of a ship's deck on the dial itself, as though they will never able to sail back out again. Yet, when set in pure rose gold, the effect is truly mesmerising.
Ulysse Nardin is a famous haute horlogerie brand which has a strong tie with the ocean for decades. If you take a closer look at the details of the Swiss watchmaker's timepieces, particularly its dial, you will notice that every design element is carefully crafted to depict a strong DNA from the great ocean. The 2017 edition of Marine Grand Deck Tourbillon has once again impressed us with its familiar avantgarde technicalities, evoking the urge inside of us to pay a great respect towards seafarers. It has been designed meticulously with every detailed element mirroring the deck of a superyacht on the marquetry. Similar to last year, it is limited to only 18 pieces worldwide, but of course this year, it emerges in a warm colour scheme: 5N Rose Gold. Finely crafted in pin oak, the slightly darker wood of this edition is the colour of chocolate, exemplifying the rose gold of the case and lugs.
If you didn't know already, the revolutionary time mechanism was inspired by a yacht's boom, ropes and winches that work together to hoist the sales. Using super-strong yet ultra-fine nanowires for the ropes, the mechanism employs a unique retrograde jumping hour device, driving the minute hand with two pulleys and two winches in gold. The nanowires act as a tool to pull the golden retrograde to move along the spinal arc where the minute indicators are located at the centre of the dial. When the golden boom hits 60, it will gracefully swing back to zero, regulated by a double-barrel system. It is definitely a beautiful gambit that one can witness from this timepiece every hour. It indeed reflects how the ship's boom is actually operated on deck in real life. Whereas for the jumping hour, it is visible in a double aperture under the maritime symbols at 12 o'clock, in white for excellent visibility.
Employing the UN-630, a 60-second flying tourbillon with manual winding movement, the timepiece is also finished off with a rose gold ring elegantly and precisely positioned at 6 o'clock. Additionally, Marine Grand Deck Tourbillon has a generous 48h power reserve and is water resistant to 100m to allow each seafarer to sail with a peace of mind even beneath the sea level.