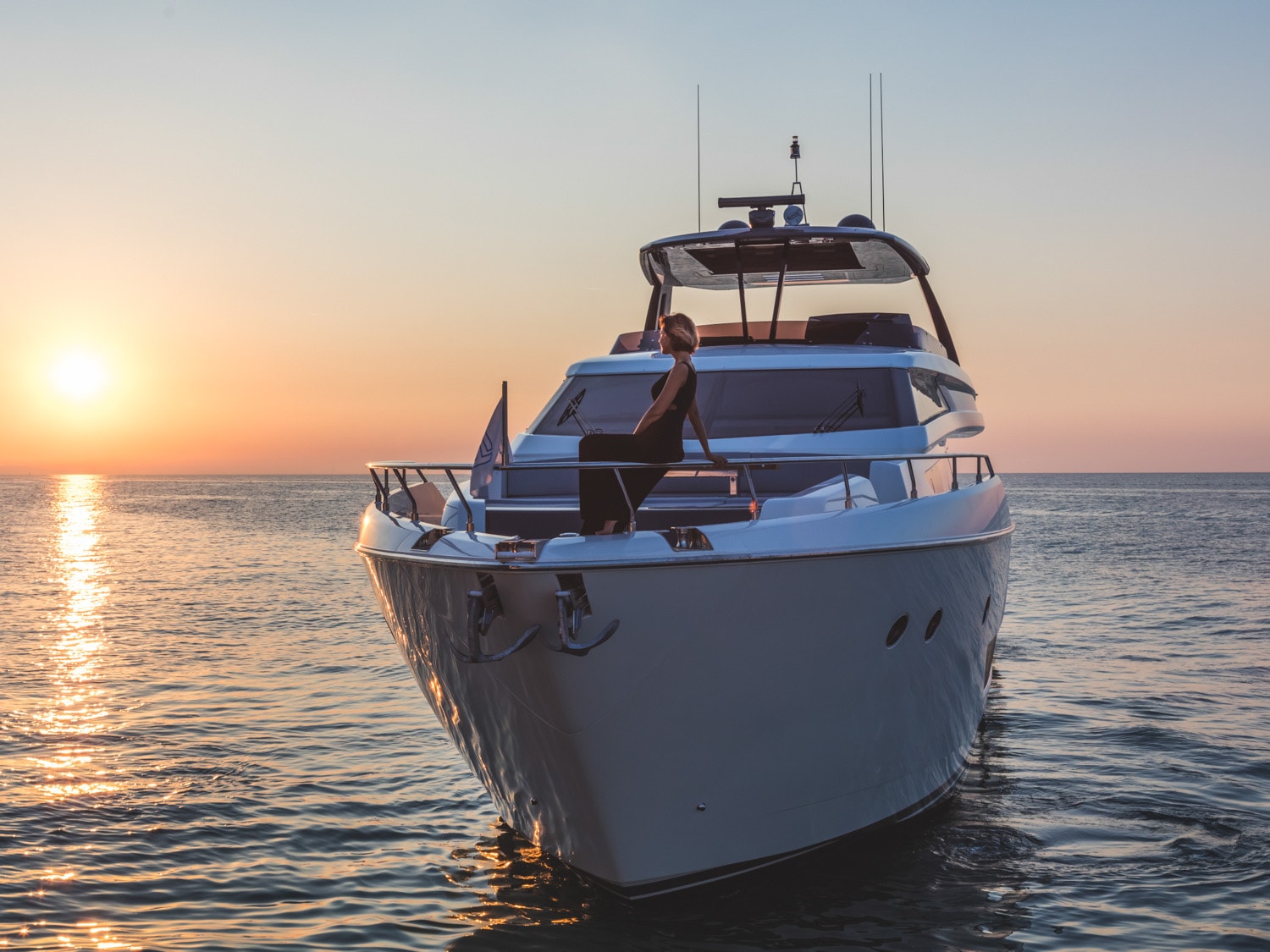 We're all too familiar with 'Italian Luxury'; the flair, the attention to detail, the tastefulness and its graceful art-approach to making products that carry real value. Ferretti Yachts is yet another example of how Italians take their craft to a very serious level, a level that allows many to then, express themselves without limits.
If you've gone through our 60th print magazine issue briefly or thoroughly, you'd have already noticed the gracious tribute to Ferrari in line with the marque celebrating its 70 Years Anniversary. Still, we couldn't help but notice how Italians have a serial knack for crafting and building in a very unique way. It is as if, everything that is put together in that Mediterranean land almost always turns out to be luxurious one way or another, and that is by no means a complaint at all. But supercars do have their limits. Yachtmaking however, is more of how far one wishes to explore possibilities and potentials. Ferretti Yachts, is no stranger to this form of luxury craftsmanship.
Some would argue that Ferretti Yachts has lost its European feel because of how Ferretti Group has been operating with a subtle Asian backing for the longest time through the mothership company that is Ferretti Group. However, if you forget all the boardroom drama for a while, you wouldn't be able to dismiss that the boats that come out from Ferretti's shipyards are stunningly beautiful, in a very Italian way. One such example is in its FY850, the "Tai He Ban" special edition that drew a huge buzz at the recently-concluded fourth edition of Ferretti Group Open Days.
All who set their eyes on the FY850 in person during the event were impressed by its expression of powerful beauty, aggressive charm, elegance and luxury, all blended together in an unmistakable Italian sense for design. It is modern in application, yet traditional in terms of sticking to Ferretti's heritage of Italian boatmaking. 10 units of the FY850 have already found their owners, two of which are moored in Asia Pacific and we can understand this healthy number because simply put, it looks like a pure winner not just for the present, but for the future of Ferretti Yachts.
The final product of the FY850 is of course a product of engineering and design endeavours that only a leading boat builder like Ferretti Yachts can provide. The Italian marque credits this final result to its skilled team of engineers, designers and professionals who carry on the glorious Made in Italy tradition. The Ferretti Yachts 850 is yet another extraordinary masterpiece in the almost 50-year history of a brand that has conquered the international markets with its large and wide-ranging fleet, which currently includes 8 models between 45 and 96-feet in length.
The celebrated "Tai He Ban" special edition of the FY850 model is the direct result of intense collaboration between Ferretti Group's Product Strategy Committee, Studio Zuccon International Project for the exterior design, and the Group's Engineering Department responsible for the naval and technical engineering and fitting out of the interior. On looks alone, one can identify the Italian love for sharp, yet fluid lines on the exterior of the FY850. The waterlines draw inspiration from the successful Ferretti Yachts 80-footer and have been adapted to the increase length of the hull, which is now 85.4 feet (26 meters) with a construction length below 24 meters, thereby falling within the classification category for recreational boats. The yacht is immediately striking for its bold profile, characterized by those sharp angles that give it a strong and aggressive personality. But the full expression of the Ferretti Yachts Italian philosophy towards luxury is seen in its interior design, a product of typical Italian tastes for both comfort and functionality.
The aft area can be enjoyed to the full thanks to an innovative mechanism to open and fold down the transom door, which becomes a beach area that can also be lowered under the water. Not only does this provide guests with a large submersible platform, it also makes tender operations easier for the crew. Upon a customer's request, a second tender or water toy and davit crane can be placed on the fly bridge. Over at the cockpit, great care has been devoted to maximising the space for social occasions and relaxation. They might seem simple at one look, but a lot of thought has gone into making it a seamless experience; a large rectangular table in teak, a fixed bench and 4 chairs from Roda, allow to seat-up to eight guests. Electrical sockets are installed in the base, allowing one to host a teatime session even.
This masterful blend continues onto the main deck, where an open space including the salon, a formal dining area and a cocktail area extends for over 10-metres. All the furniture and fittings have somewhat redefined the architectural and design 'language' of yachting. Even the creative decor is the result of the Group Engineering Department's interior designers, who worked side by side with international trend research experts to ensure that it would represent a break with conventional standards of on board furnishings.
Instead of following the geometry imposed by the superstructure, straight lines, flat surfaces and linear paneling dominate the interior. Thanks to the use of perpendicular partitions, almost full-height glazed surfaces, the light and pleated curtains, and mainly freestanding furniture, the main deck space is pervaded by a sense of contemporary, metropolitan elegance. The interiors, including and all the areas below deck, are in Flamed Oak tinted tobacco with glazed brass finishing, while the ceiling panels are lined in fabric in a cream-colored shade, giving it its deep Italian flair and feel.
The salon is brightened by plenty of natural light let in by large windows and is arranged as a living area conceived to ensure total relaxation. At starboard, there is a large custommade, C-shaped sofa upholstered with Minotti decorative cushions. The coffee table is an elegant design piece composed by genuine leather on the surrounding and the top is enriched by lacquered ebony. On the opposite side, there is a standing armchair from Minotti too, while behind the armchair a 55″ TV can be found nested nicely for those stay-in days when out at sea with loved one and friends.
When one moves forward, at portside a wooden cocktail area with a glazed brass top can be found, where drinks can be prepared and served easily. The area is completed with a cabinet storage and two pieces of design's stools by Poltrona Frau. The formal dining area is arranged with a wooden round table by Minotti with a central round tray lacquered in "sand" colour, while the eight dining chairs are genuine leather upholstered from Poltrona Frau. The bow wall visible on the background is composed by "Alabastro Bamboo" marble-effect panels with polished finishing. The helm station is set in a separate raised-level area at bow. Accessible from both the starboard passageway and the central lobby, it can be reached by the captain and crew directly from their own cabins. The galley is completely separated and located foredeck beyond the lobby and the helm station. It is fitted with Ernestomeda furniture and a large cooking top. Beside it and near the stairs that lead to the crew cabins there is a convenient dinette.
Of course, the level of details carries on relentlessly throughout to showcase the strict thought-process that has gone into creating a luxurious Italian nest that is at home on the seas. If you've cruised on a Ferretti before, you'd be familiar with its impeccable seaworthiness, how its structure cuts and glides on water without upsetting its inhabitants like some boats have a tendency to. Nothing of this sort from this 85-foot Italian sleeker. She invokes this keen Italian flair for lifestyle with the right amount of details, not compromising her sailing performances once, with her tried and tested MAN engines; twin V12 1800 mhp engines that give the FY850 a cruising speed of 26 knots and a maximum of 29 knots, all with the reliant Seakeeper stabilizers.
It is in the overall formula of design of this Ferretti Yachts FY850 that reminds us how Italians have a gift in luxury craftsmanship whether the world recognises it and responds to it. The brand will continue to grow by the leagues in time to come and yachting enthusiasts won't be the only persons who will be captivated by Ferretti. Anyone with a spark for the finer things in life will appreciate the marque's dedication to crafting some beautiful instruments of lifestyle expression, and that is always a good thing for the true connoisseur.