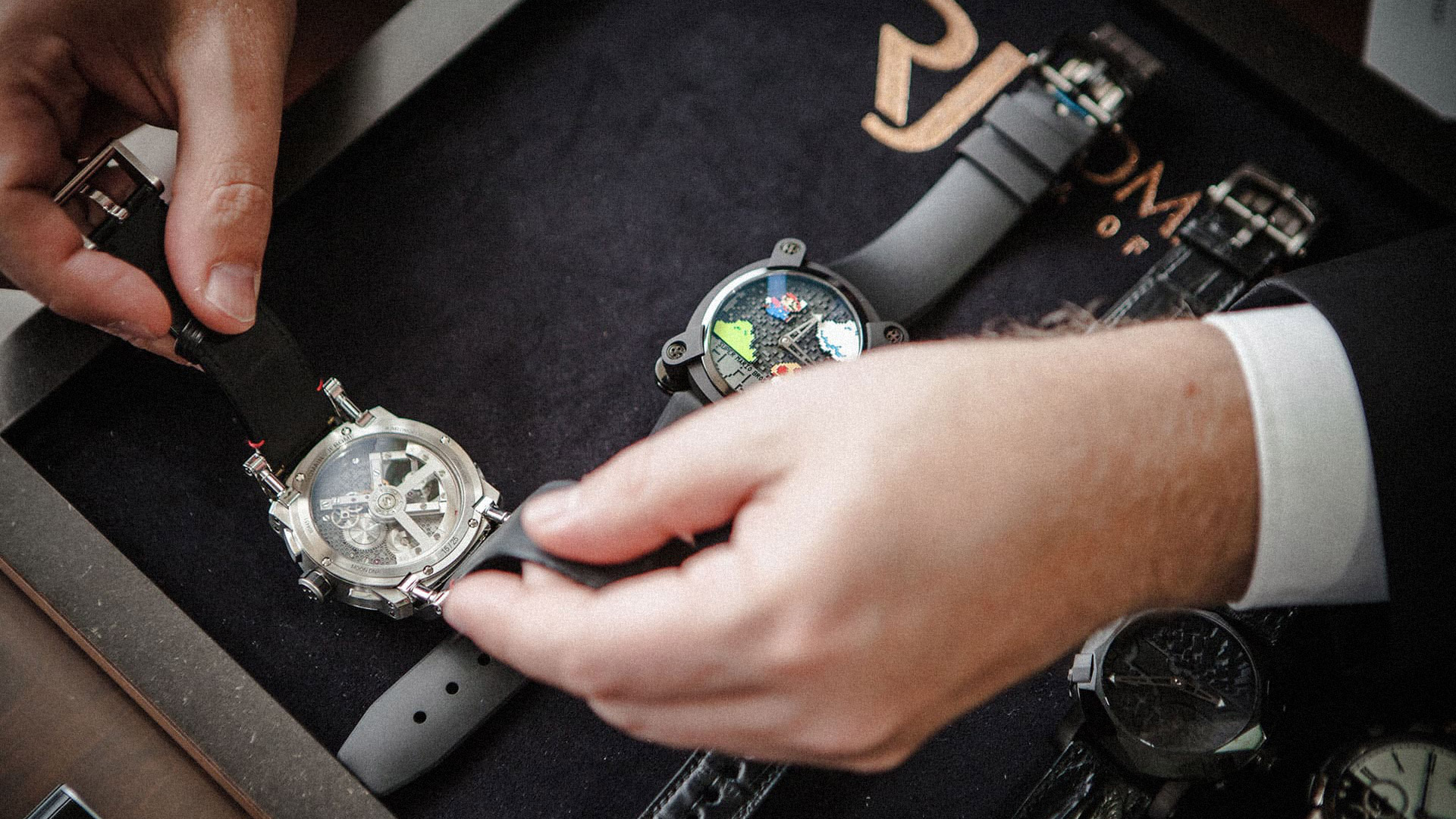 No Democracy In Creativity

4 year-old Manuel Emch is Swiss born, and he began his search for tertiary knowledge at the Art Center in La Tour de Peilz, before obtaining his Master's degree in business at Lausanne University's Faculty of Business and Economics. After his studies, it was at the Swatch Group where his talents were unlocked and unleashed as he took the Jaquet Droz brand and put it back on its feet. In time, he was also appointed to the Group's Extended Management Board to oversee special responsibilities for a wider territory that included Russia and other Eastern European countries along with Central Asia. Now in the hot seat at Romain Jerome, the pressure is a familiar feeling.
"You'd be surprised. I had less pressure at the beginning than at the end. For example, when I started the company, the first year in Jaquet Droz, we did half-a-million dollars in turnover. When I left, it was 35 million dollars. So it grew by a little bit. I term it 'a little bit' because when you're a brand within a billion-dollar group like Swatch, we were like the outer layer of peanut" joked Manuel Emch.
In his robust career so far, he is known for having considerable skills in establishing and consolidating brand identity. He is after all known as one of the youngest CEOs in all of watchdom currently, and while his track record precedes him, he believes that creativity must have its time and place to perform autonomously.

"It is interesting because when I came in, nobody cared about it (Jaquet Droz). Because of that, I had this total creative freedom and also the commercial freedom to do whatever I thought was good for the company. As the brand grew, automatically, the less autonomy I began to have" explained Mr. Emch. But he was willing to unearth a few more management treasures when he went on, "It was easier in the beginning when things were tough than at the end, when things got better. This is also a case of environment, because it probably means that, from a personal point of view, I need a certain creative space and room to play in. I left Swatch after a while because I just didn't feel like I had the autonomy I had from the beginning to make a difference." added Manuel.
That being said, Manuel believes that while a product can be performing well, what makes a more solid platform is how a company sticks to its philosophies. He finds that to be the key factor to what makes or breaks the said product or brand. He is also an individual who prefers a more hands-on approach, especially in terms of design.
"I am pretty hands on and I used to design a lot of things. Today, I have someone who does it for me. I still do some of the sketches and give directions. However, I tend to get upset a lot" said Emch as he chuckled under his breath. He is of the opinion that compared to his debuting years, he now has to give up some practical sections that are his passion and hold higher ropes under his management gaze, which is how he shared a very different opinion on creativity, linking it closely to autonomy again.
"I learnt that creativity is not a democratic process. Whenever it becomes a democratic process, you end up with pretty bad products. A good place to see the example is in the car industry. The more decisions are taken in assembly, the design of the product won't be good. You can see this with a brand like Lamborghini; they're super-efficient when it comes to design because everything is up to one person. That is the big strength of a brand like that" shared the CEO of Romain Jerome on how autonomy to him, allows the creative space to design better products and thus, grow a business to its full potential.
"A company must be led by one person in my opinion, who not only has the vision, but the capacity to transform that vision. Even so, the more the company gets bigger, the more the designs of the product becomes diluted. With the many layers of management in place, sometimes you might just end up with a look-alike" remarked Emch. What's more, to Mr. Emch there is much work that goes into building a brand identity, let alone a product that it is always better to streamline ideas the right way.
"This is why I believe to some extent if you want to put out a great product, it is very difficult to be democratic about it. A company should be built around one philosophy and it will take many years before it comes to be. That is also why I believe it is not easy to build and break identities" shared the flamboyant CEO.
As we perused the vivid and quirky collections from Romain Jerome that were before us, one particular collection that invoked Manuel's spark was the Super Mario Bros. collection that according to Manuel Emch, held a special place in his heart. The collection bares the distinct video game icon in its famous red and blue costume, but according to Manuel, there is an interesting tale to the collaboration with Nintendo and Mr. Emch took us through a brief background of the collection.
"I wanted them (Super Mario Bros. collection) to be as historical and relatable as possible. But the problem was that the Super Mario of that time (1983) was not red and blue. That of course evolved over a period of time. So when we did sign the deal with Nintendo, obviously they were very particular about the original colours and I understood that as well. So we agreed to launch it in the same year as the 30th anniversary of the new Super Mario that wore the red and blue outfit. We also had to launch it before the close of the year, which as why the 15th of December launch date last year" explained Manuel Emch on deciding on which version of the iconic video game character. But closer to his heart, the legendary video game character is something from his childhood that he will always remember.
"For me, the video game is a cultural reference of the generation of customers we target. For me, among all video games, this is the one I could emotionally connect to, the most. I played the game for the first time when I was 14 years old and it always stuck, because I grew up in a small village in Switzerland of 5,000 people. So when I did try the video game when I went to visit my sister in Eugene, Oregon, in the USA, I never forgot the experience. I can even recall the smell of the home in which I first played Super Mario. Yes, it's that special" recollected Emch, with eyes clearly searching his memory for sweet memories.
"This Super Mario Bros. collection in a way, embodies what all our Romain Jerome timepieces strive to do. They are not just complex and full of artisan features, but they also create this emotional link and also the nostalgia." remarked Manuel.
Undoubtedly, Romain Jerome as a premier timepiece maker has made a name for itself in putting out tasteful timepieces that almost always throwback to some cultural referencing with their 'Generational Icons' range. It has proven to be a business strategy that has raised Romain Jerome to be a competitive and recognisable watchmaker that is starting to edge away from other brands that can at times, be generic in expressing a very serious tone. Manuel Emch however, believes that it all boils down to a perspective.
"There is always a lot of opportunity to do things but I believe life is all about 80 per cent of work, 10 per cent luck and 10 per cent talent. Luck is something you can provoke. If you don't provoke it, it's like waiting for a bus but not at the bus stop."
Clearly, Romain Jerome is on its way to greatness, but more importantly, in Manuel Emch, the right man is behind them, or rather, behind the wheels of a bus that is surely going to take watch-lovers and horology aficionados to more wonderful settings through their timepieces.