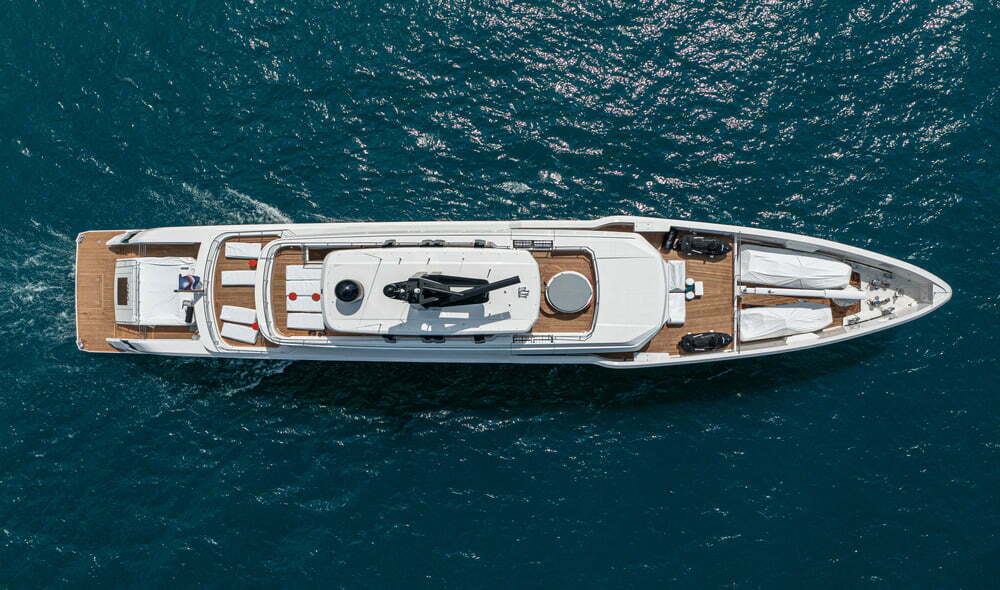 ​CRN delivers the 52-metre to grace the beautiful Mediterranean waters.
The latest custom 52-metre Ciao Superyacht has set sail from the CRN shipyard in Ancona to the hands of her owner, and is now off on a voyage, gracing the Mediterranean as envisaged.
The all-aluminium opus embraces an uplifting sport personality that flaunts its taut, near-vertical bow to reflect her dynamic style. The revered architecture and design studio, Omega Architects, drew the external lines, whilst Massari Design, fashioned the outdoor guest areas and interiors.
The M/Y Ciao is customised to capitalise on the wide external spaces, synergising a seamless interplay with the interior to create a sanctuary that dominates the open ocean. She spans 4 decks and can accommodate up to 10 guests in the comfort of the owner suite within the main deck and the 4 VIP cabins below.
Featuring full-height tinted glazing on the main and upper decks, the mirage of visual and spatial continuum accentuates the hull lines, granting a peace and serene view of the ocean in the utmost on-board privacy.
After all, this bespoke creation is a reflection of the owner's vision with a passion for the on-board lifestyle, focusing on comfortable spaces in the open air with meticulously designed social zones made for leisure. The spacious outdoor areas offer 2 sizable lounges with sunbathing area and a spa pool, an al fresco dining area on the Upper Deck, and a superb leisure and wellness zone at the beach club.
The luminous outdoor areas transverse fluidly into the inside spaces which is evident in the Main and Upper Deck saloons, which can also be suited as versatile living spaces for relaxation and fun.
CRN is currently building 3 other fully custom yachts, namely the 72-metre CRN M/Y 139, the 60-metre CRN M/Y 141, and the 67-metre CRN M/Y 143. So, stay tuned for more coverage on these upcoming majestic opuses.