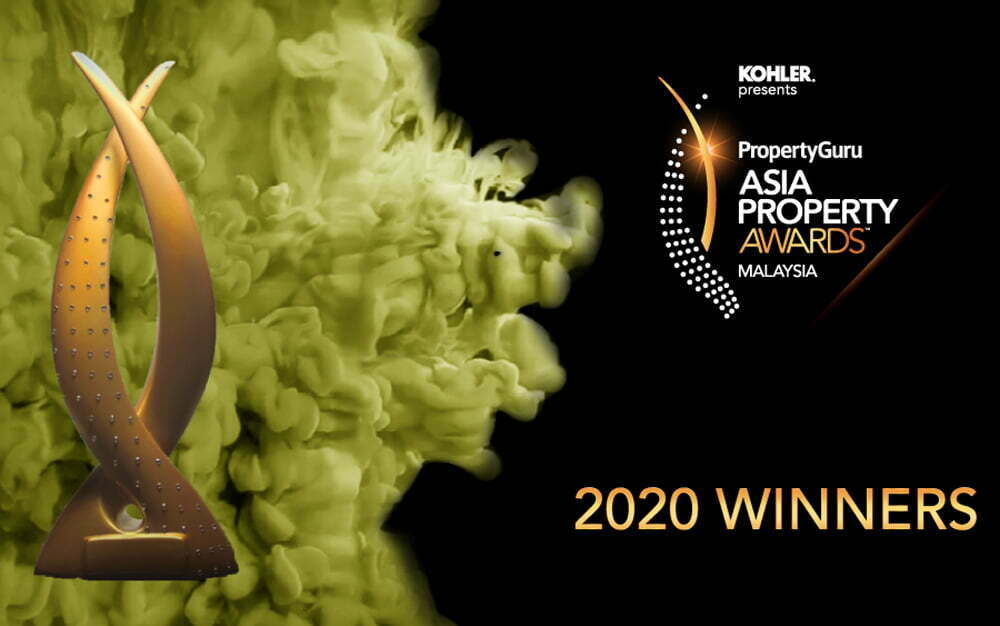 Property Seekers, Real Estate Agents, Overseas Developers And Industry Stakeholders Alike Partook In The Successful, Immersive and Interactive Virtual Event
.
The first ever virtual gala of the PropertyGuru Asia Property Awards (Malaysia), now in its seventh year took place recently in mid-September successfully drawing property seekers, real estate agents, overseas developers and industry stakeholders alike.
The Malaysian chapter's prestigious real estate awards platform presented 35 award categories to the outstanding builders of the country's skylines and spaces via a multi-streamed event platform. Viewed globally through PropertyGuru Asia Property Awards site https://www.asiapropertyawards.com/en/tv-podcast/ and the official channels on YouTube and Facebook, viewers were also able to participate in an exclusive live chat on the official Awards website during the live broadcast.
The seventh PropertyGuru Asia Property Awards (Malaysia) saw Tropicana Corporation Berhad receive the title of Best Developer – supported by 10 wins which includes the coveted trophy of Best Condo Development (Malaysia) for Tropicana Grandhill.
The virtual gala awards also saw Fieldman Construction Sdn Bhd, one of several Special Recognition for CSR (Corporate Social Responsibility) recipients named Best Boutique Developer. Meanwhile, Matrix Concepts Group, Mah Sing Group Berhad, AME Development Sdn. Bhd., and Ideal Property Group earned the newly introduced titles of Best Mega Township Developer, Best Lifestyle Developer, Best Industrial Developer, and Best Affordable Homes Developer, respectively.
Some 25 companies in Malaysian property development took part in the virtual celebrations and accepted their prizes via remote video. These included the Thai-Malaysian venture of Minor International and Themed Attractions Resorts & Hotels, which won the plum prize of Best Landed Development (Malaysia) for Anantara Desaru Coast Residences.
In the milestone for the programme, the Malaysia Real Estate Personality of the Year title was presented to Sarena Cheah, managing director of Sunway Berhad's property division, making her the first woman to receive this honour in Malaysia.
"Every day, the team at Sunway Property takes on the most pressing challenges of our time and that is to build sustainable cities and communities in alignment with the United Nations Sustainable Development Goals that are practiced across the world. This is because we see urban cities as the world's biggest challenge; but at the same time, that is potentially also our greatest solution," Cheah said.
"I would like to take the opportunity to also thank all our customers, employees, stakeholders, and everybody who has been on this journey with us. Thank you for being our inspiration, as at the end of the day, it's really putting smiles on everybody's faces that is our greatest joy in being a 'Master Community Developer,'" she added.
The main award winners will go on to represent Malaysia at the Annual PropertyGuru Asia Property Awards Grand Final where they will compete with the region's finest to be crowned Best In Asia. The event will be held in Bangkok, Thailand in December this year and will be joined by key property delegates from around the region.
The PropertyGuru Asia Property Awards (Malaysia) is judged by an independent panel of expert judges after a rigorous, ethical, fair and transparent judging process which is further supervised by BDO Malaysia, a leading professional services firm providing audit & assurance, advisory, tax services and business services & outsourcing. Spearheading the supervision is Pang Zhi Hao, Partner, and Lu Yan Fen, Director, Audit.
The judging panel this year comprises:
> Awards chairperson: Prem Kumar, Deputy Managing Director, Jones Lang Wootton;

> Blaine Robert, Creative Director/CEO, Blaine Robert Design Sdn. Bhd. and Blaine Robert Lifestyle Sdn. Bhd.;
> Boon Che Wee, Director, GRA Architects;
> Chris Tia, Principal, Tia & Noordin;
> Dr. Daniele Gambero, CEO & Propenomist, REI Group of Companies;
> Datuk Ar Hj Saiful Anuar Abdul Aziz, Principal, Arte Axis Design Group;
> Sr Low Han Hoe, Senior Manager, Investment, Nawawi Tie Leung Real Estate Consultants Sdn Bhd;
> Architect Mustapha Kamal Zulkarnain, Founder and Principal, Arkitek Mustapha Kamal;
> Sr. Engad Ravana, Principal of ER Consult;
> Tan Hui Yin, Partner, Tan Chap & Associates; and
> Ir. Dr. Zulhkiple A. Bakar, Managing Director, Perunding ZNA.
Site inspections in North Malaysia were conducted under a team of judges that included:
> Michael Yeoh, CEO & Founder, GM Training Academy PLT;
> Ng Wee Kwong, Property Investor;
> Richard Oon Hock Chye, Executive Director, ShineWing TY TEOH Consulnet Tax Sdn. Bhd; and
> Charles Tan Chia Lih, Owner of kopiandproperty blog.
Meanwhile, site inspections in South Malaysia were conducted by:
> Lim Qun Kai, Designer, Founder, The Blue Creative;
> Ir. Dr. Justin Lai, Managing Director of IPM Group; and
> Law Lee Kiau, President, Johor Interior Designer Association.
The 7th PropertyGuru Asia Property Awards (Malaysia) 2020 was supported by:
​Platinum Sponsor:
​

​Kohler

​Official Portal Partner:
​​

PropertyGuru.com.my

​

​Official Magazine:
​​PropertyGuru Property Report

​

​Media Partners:
​​Business Today
Kopi and Property
Malaysian Business
The Grid Asia
Top 10 of Malaysia
​Official PR Partner:
​

​Klareco Communications

​Official Charity Partner:
​Right To Play

​

​Official Supplier:
​

​ConerStone Wines

​Official Supervisor:
​BDO
Congratulations to the winners and highly commended awardees of PropertyGuru Asia Property Awards Malaysia 2020.
FULL LIST OF WINNERS & HIGHLY COMMENDED AWARDEES
7th PropertyGuru Asia Property Awards (Malaysia) 2020
​Best Developer:
​​Winner: Tropicana Corporation Berhad

​

​Best Boutique Developer:
Winner: Fieldman Construction Sdn Bhd

​

​​ Best Mega Township Developer

​:

​​Winner: Matrix Concepts GroupHighly Commended: KLK Land
Highly Commended: Tanah Sutera Development Sdn Bhd
Highly Commended: Tropicana Corporation Berhad
Highly Commended: UMLand

​

Best Lifestyle Developer:
Winner: Mah Sing Group Berhad
Best Industrial Developer:
Winner: AME Development Sdn Bhd
Best Affordable Homes Developer:
Winner: Ideal Property Group
Highly Commended: Fieldman Construction Sdn Bhd
Best High End Condo Development (Central)

​:

​​ Winner: Tropicana Grandhill by Tropicana Corporation Berhad

​

​ Best Mid End Condo/Apartment Development (Central)

​:

Winner: Waltz Residences by WCT Land Sdn Bhd

​

​​ Best Mass Market Condo/Apartment Development (Central)

​

​:

​

​

Winner: M Oscar by Mah Sing Group Berhad


Highly Commended: Horizon Suites by Horizon L&L Sdn Bhd

Best Waterfront Development

​:

Winner: Residensi AVA @ KIARA BAY by UEM Sunrise Berhad and Melati Ehsan Group

​

Best Luxury Landed Development:
Winner: Anantara Desaru Coast Residences by Minor International and Themed Attractions Resorts & Hotels

​

Best Landed Development (Central)

​

:
Winner: Tropicana Aman – Dalia Residences by Tropicana Corporation Berhad

​

Best Cluster Brownfield Development (Central)

​:

Winner: Karya Residensi by Selaman Sdn Bhd

​

Best Condo/Apartment Development (Southern):
Winner: AMBER HEIGHTS By UMLand Seri Alam

Highly Commended: Paradigm Residence by WCT Land Sdn Bhd

​

​
Best Mid End Landed Development (Southern)

​:

Winner: Ayera Residences by Tropicana Danga Cove Sdn Bhd
Highly Commended: D'Art 18 Collection III by PH World

​

Best Landed Development (Southern)

​:

Winner: St Marco Park – Phase 1 by Casa Bayu Idaman Sdn Bhd
Highly Commended: Sierra Heights (Daintree Residence) by Kemajuan Tong Tor Sdn Bhd

​

​
Best Condo/Apartment Development (Northern)

​:

Winner: The Horizon @ Ipoh by DreamLike Development Sdn Bhd

​

Best Mega Township Development

​:

Winner: Bandar Sri Sendayan by Matrix Concepts Group
Highly Commended: Taman Sutera Utama by Tanah Sutera Development Sdn Bhd
Highly Commended: Tropicana Aman by Tropicana Corporation Berhad

​

Best Township Development

​

​:
Winner: SIERRA HEIGHTS by Kemajuan Tong Tor Sdn Bhd

​

Best Hotel Development

​:

Winner: Courtyard by Marriott, Penang @ Tropicana 218 Macalister by Tropicana Corporation Berhad

​

Best Industrial Development

​:

Winner: i-Park@Senai Airport City by iPark Development Sdn Bhd

​

Best Mixed Use Development

​:

Winner: Tropicana Gardens by Tropicana Corporation Berhad

​

Best Retail Development

​:

Winner: Uno @ Bukit Raja by Rivertree Signatures
Highly Commended: Oasis 3 by Tropicana Danga Cove Sdn Bhd
Highly Commended: Vervea by Aspen Group & IKEA Southeast Asia

​
Best Condo/Apartment Architectural Design

​:

​Winner: Novo Ampang By Alfranko Development Sdn Bhd

​

Best Housing Architectural Design

​:

Winner: D'Art 18 Collection III by PH World
Highly Commended: Ayera Residences by Tropicana Danga Cove Sdn Bhd

​
Best Condo Development (Malaysia)

​

​:

Winner: Tropicana Grandhill by Tropicana Corporation Berhad

​

​

Best Landed Development (Malaysia)

​

​:

Winner: Anantara Desaru Coast Residences by Minor International and Themed Attractions Resorts & Hotels

​
SPECIAL RECOGNITION AWARDS
Special Recognition for ESG (Environmental, Social, Governance)

​

​:

​Winner: AME Development Sdn. Bhd.
Winner: KLK Land
Winner: Mah Sing Group Berhad
Winner: Tanah Sutera Development Sdn Bhd
Winner: Tropicana Corporation Berhad
Winner: UMLand

​

Special Recognition for CSR (Corporate Social Responsibility)

​

​

​:

Winner: AME Development Sdn. Bhd.
Winner: Fieldman Construction Sdn Bhd
Winner: Ideal Property Group
Winner: KLK Land
Winner: Mah Sing Group Berhad
Winner: Tanah Sutera Development Sdn Bhd
Winner: Tropicana Corporation Berhad
Winner: UMLand

​

​

Special Recognition in Sustainable Construction

​:

Winner: AME Development Sdn. Bhd.
Winner: KLK Land
Winner: Mah Sing Group Berhad
Winner: Tanah Sutera Development Sdn Bhd

​

Special Recognition in Sustainable Design

​

​:
Winner: AME Development Sdn. Bhd.
Winner: Ideal Property Group
Winner: Mah Sing Group Berhad

​

​
Special Recognition for Building Communities

​:

Winner: AME Development Sdn. Bhd.
Winner: Ideal Property Group
Winner: Mah Sing Group Berhad
Winner: Tanah Sutera Development Sdn Bhd
Winner: UMLand

​
Malaysia Real Estate Personality of the Year

​

:

Winner: Sarena Cheah, Managing Director, Property Division, Sunway Berhad

​

​

​
Visuals: PropertyGuru Asia Property Awards 2020